Remember that lovely, lovely picture we ended with last time -- the one with on the beach? So while that was taken, you'll notice that there are no guests (Real Ban is too impatient to set up a whole shindig, plus the couple's only friend lived with them so beh) in the background.
Well, Soo Jin WAS originally at the wedding, but...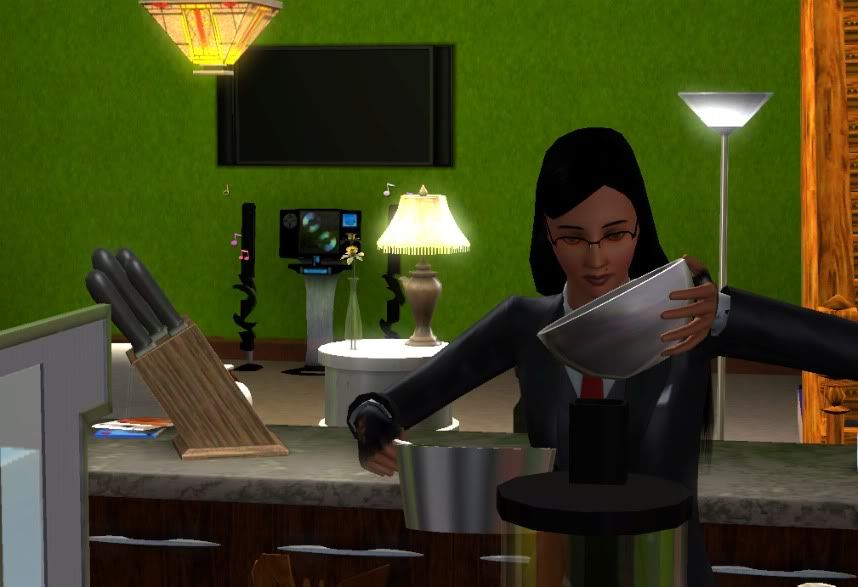 She decided instead that it was an excellent time to start brushing up on the ol' cooking skills. And while she did that (in her formalwear, of course -- what if she spills! Sheesh!), our girl Ban was having some issues.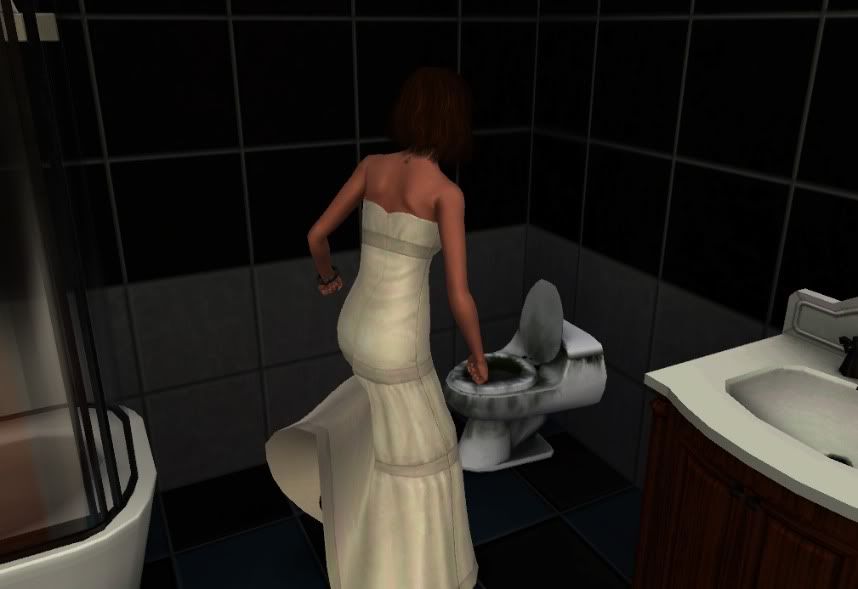 Mysterious causes, again, sweetheart? But oh jinkies, poor Bandit, look at that toilet! You throw up one time (or so...) and you get that?? If real toilets worked like that, I'd switch to an outhouse.
While Ban didn't even have enough time to switch out of her wedding gown, Boyfriend had found himself with free time -- what? What's up with that? God, I hate men.
Especially when they have no reason to work out, and they do so anyways. Don't they know it makes average folks like me feel bad about themselves? God!
Kid's all skin and bone... Go eat a steak!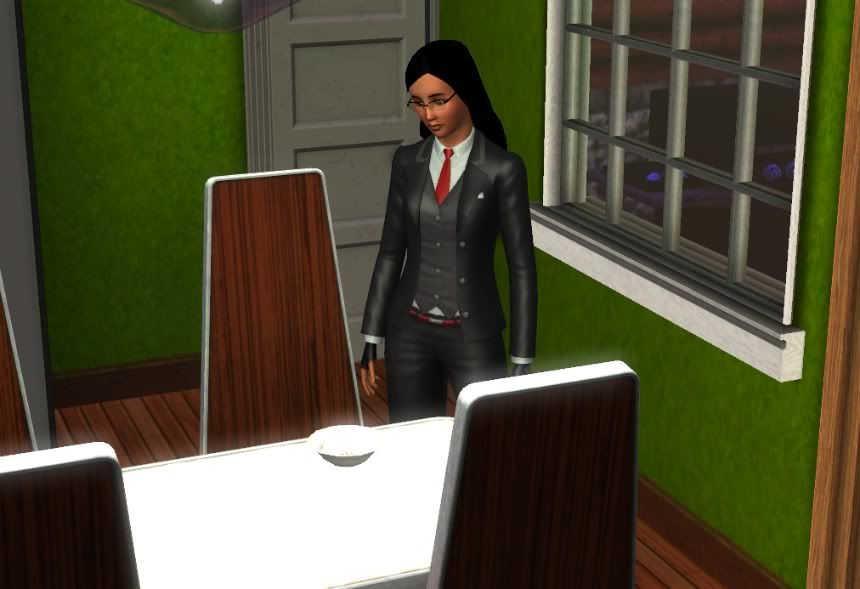 Eh-hem-hem... In other news, average folks were overeating some mac and cheese in their formalwear, and feeling extra guilty about it, I suppose. I dunno, I've never understood that girl Soo Jin.
Or maybe bowls are just fascinating?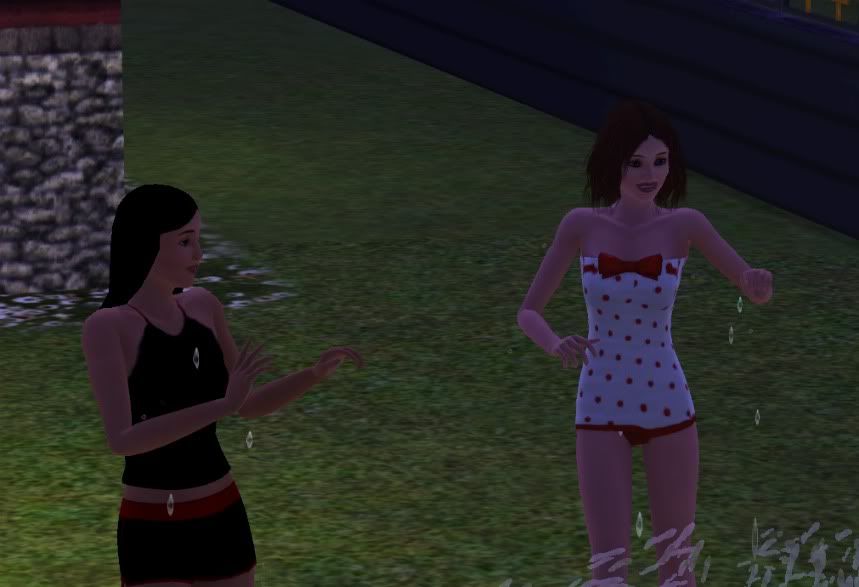 Well, after a while the girls found that it wasn't really working for them to feel bad, and hey! Who said Mysterious Causes means you can't have a little fun in the sprinkler? Nobody, that's who!!
Well, maybe excepting a doctor or summat, but whatever!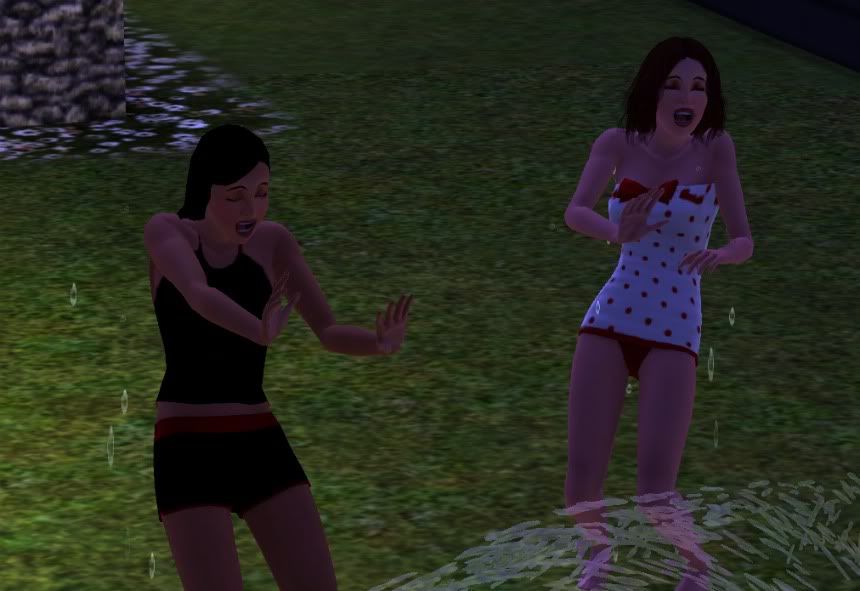 They seemed to be having a wonderful time. Smiling and laughing pictures are my absolute favourite!
Also my granma thought that Soo Jin had a fabulous bathing suit, so YEAH!
Anyways, in legacy-related news...
There was a change in bathing suits for our founder Bandit. And that can only mean one thing for a girl without any mods...
Mysterious Causes are now Pregnant! (Is it odd that I define my entire life as a series of moodlets?)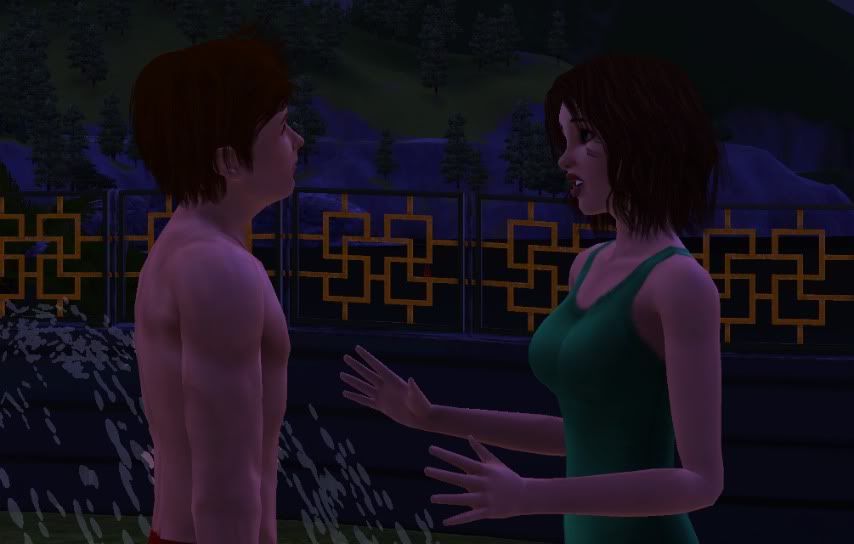 And now it was tell-the-father time. Boyfriend took a minute from his sprinkler frolicking to listen, and ....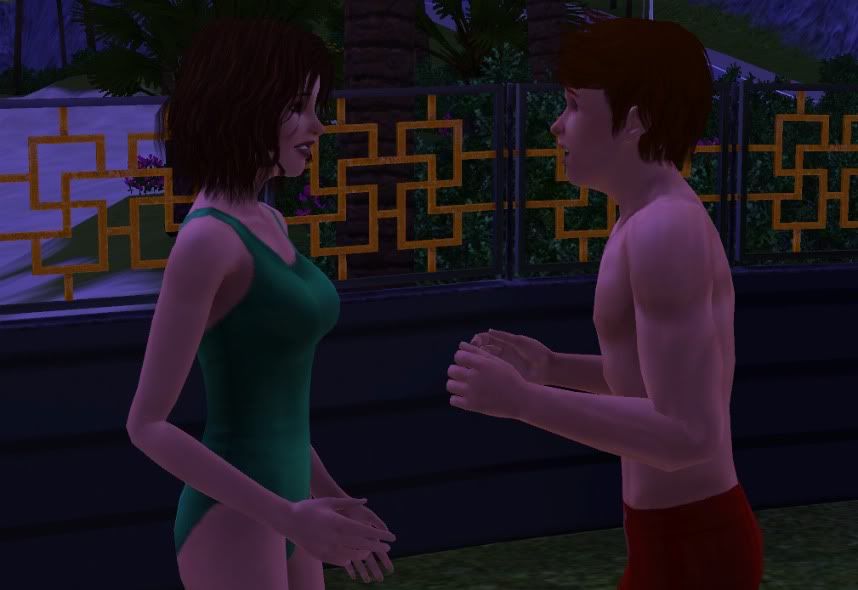 It was a go~! Thank the stars above twelve thousand times for family oriented Sims! Then the pair broke off their conversation to have private "Hurrah!"s.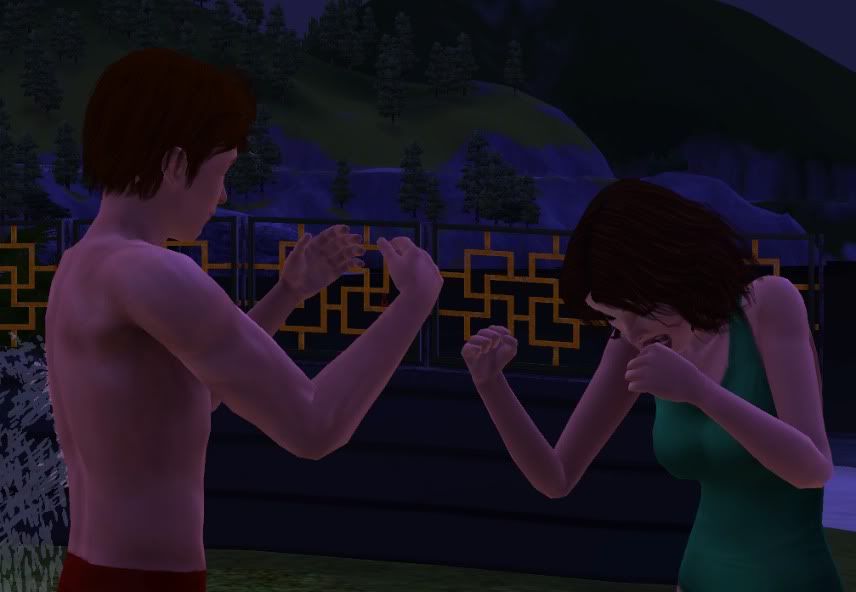 This involved nearly punching each other in happiness. But hey *shrug* I'm not going to hate.
Who do you think would win the boxing match? Leave your answer in the comments and we'll debate!
The far more intimidating task, however, was telling Dislikes Children Soo Jin about the arrival...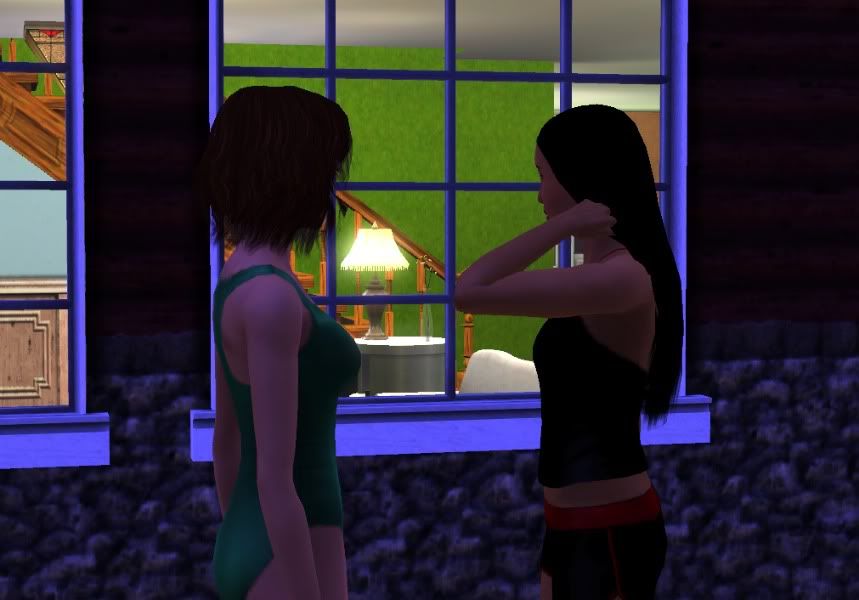 Boyfriend took the news better than she did, but thankfully the girls' best friendship remained intact, primarily because Sim Soo Jin didn't say anything, unlike Real Soo Jin, who would probably beat me up.
No big deal, though!
Now there's something I should tell you about this legacy house -- it's pretty damn close to a replica of my own house, from the windows to the pictures to the lights. I thought it turned out quite well.
Anyways, I live with my two parents, my two younger brothers, my grandparents, and a cousin (although another cousin sometimes drops by for a few weeks), and this house is nowhere near huge. The point of telling you the occupants of my house is not to trip you out, but to say simply that there are no babies to be found, and certainly no nursery.
So the first thing I did was convert my brothers' room (sorry, boys!) into a baby-friendly-ish room!
Before: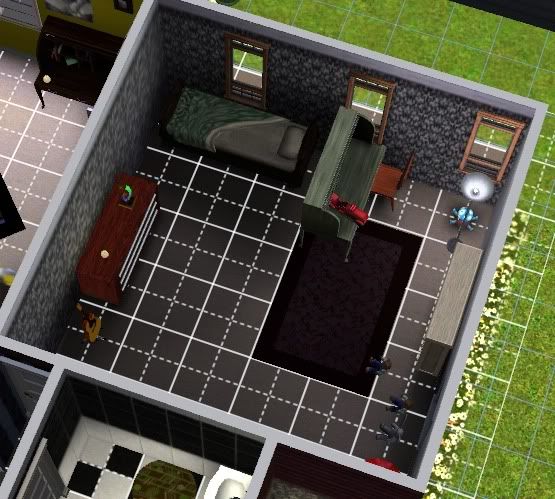 After: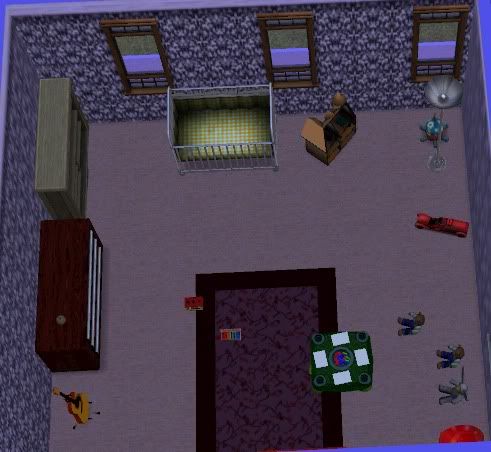 Beh, not too bad, I guess. We'll change it up later if we need to!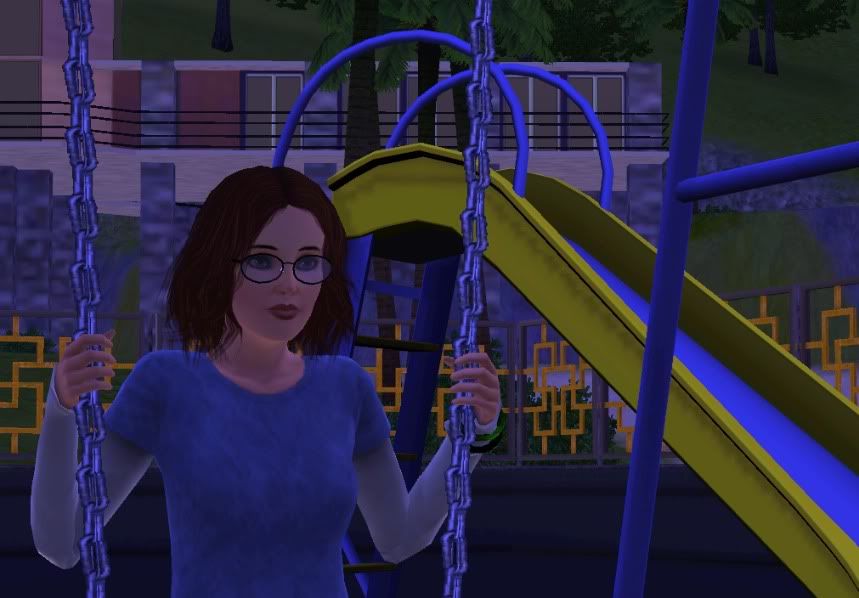 Oh, and I added a playset, which Bandit doesn't seem overwhelmingly pleased with, to be honest.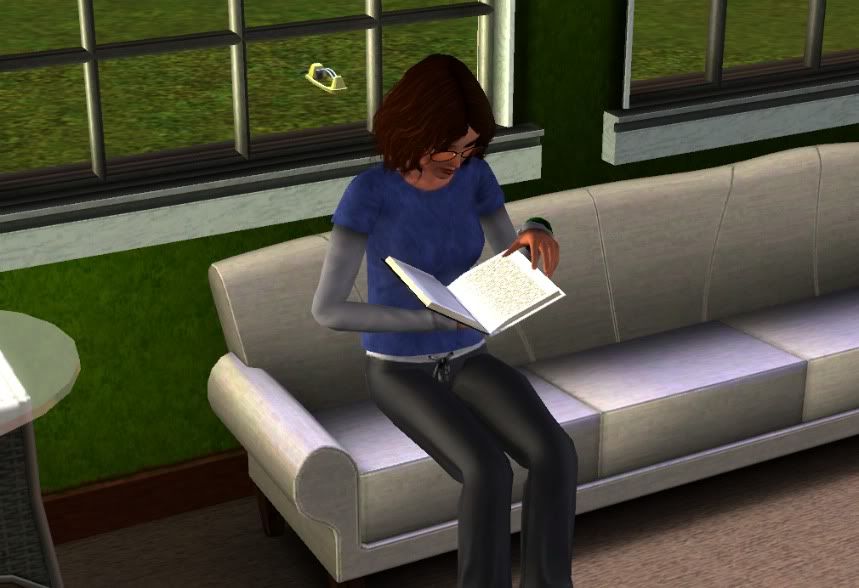 Ban the Bookworm's days were spent primarily reading and writing -- Well, reading "Totally Preggers" over and over again, that is.
You know what I love, erm, accept about not having any CC? No wanky pregnancy clothes! All of the clothes are normal (atrocious, but not nekked lol), so yeah.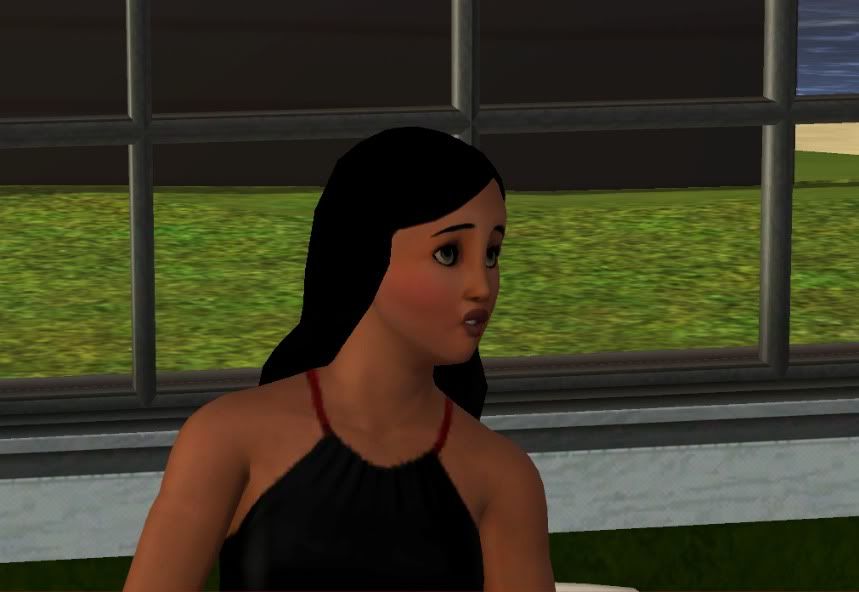 Then, when Ban had finished her book, Soo Jin came over to watch TV with her. Of course (because my game is pretty much my real life and it's creepy as hell), they watched Terror TV.
Real Soo Jin is obsessed with horror movies, and she keeps me up on all the latest and greatest -- anyone here seen The Audition?
Oh God, if you haven't, don't do it. Or do it if you're into horror movies, because it's scary as hell.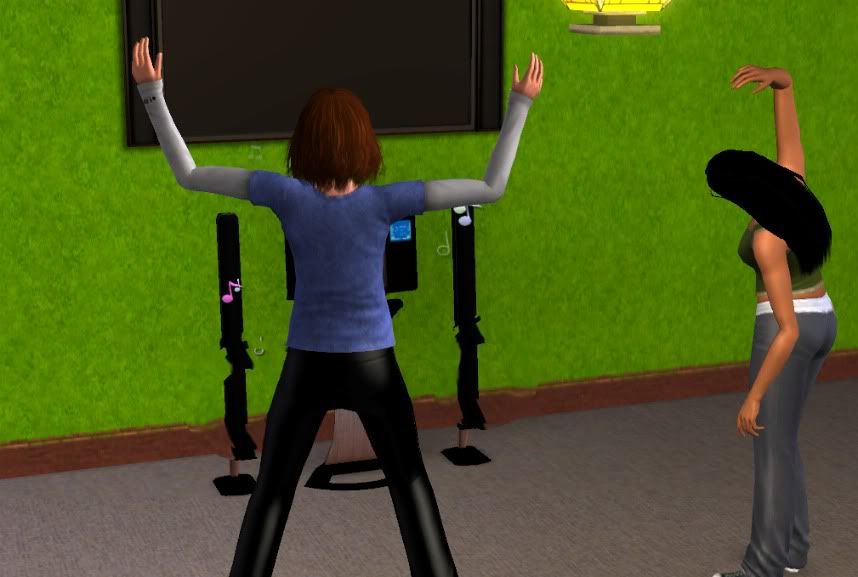 Anyways, Soo Jin had the day off work, so she and Bandit had a little time to themselves. They did what all girls do on their days off, of course: Work out!
Not really, Soo Jin wouldn't work out for fun -- she did it for the grades in high school and that's all. But hey, whatever makes 'em happy.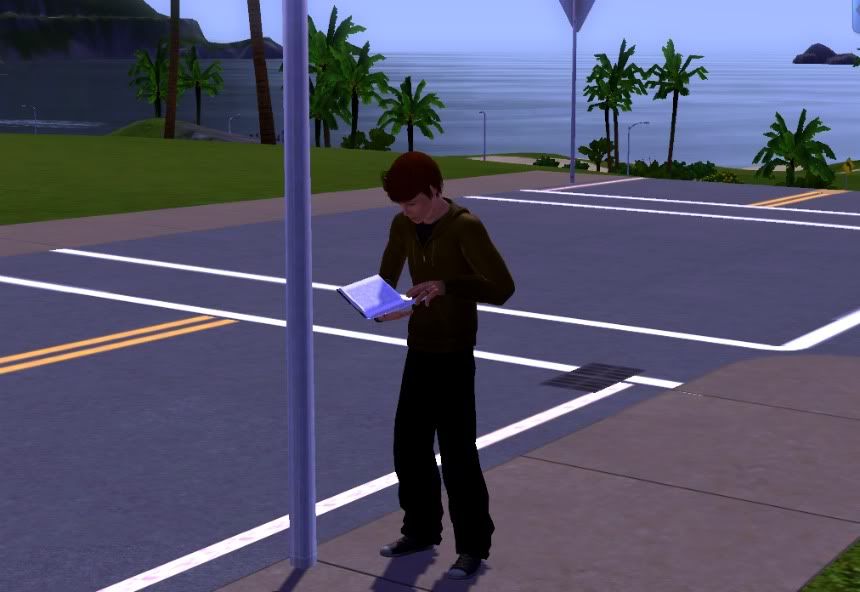 Our boy Boyfriend, though, had to run out to that thing we call work (I wonder why the Organ Donors don't come home extra pale...?), and didn't even make it home. Yes, he was THAT eager to read Totally Preggers. I can't help but think that this kid could do worse.
However, that extra day of work paid off: Boyfriend was promoted! And in celebration of his promotion, he felt the intense need to share the joy that was his life and donated a hundred Simoleons.
God bless you, Anonymous Donor to Pools Without Ladders, may God bless you...
To be honest, I hadn't thought that non-Good Sims can donate. Guess I was wrong...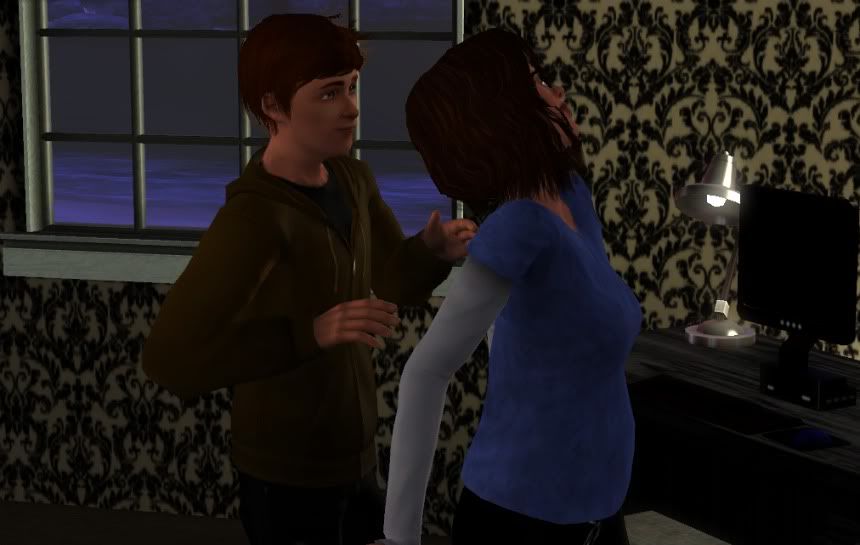 Anyways, Boyfriend was either side of completely obsessed with the idea of becoming a father.
He was constantly wanting to massage Bandit's aches, and it was super cute. He also loved bonding with his little one.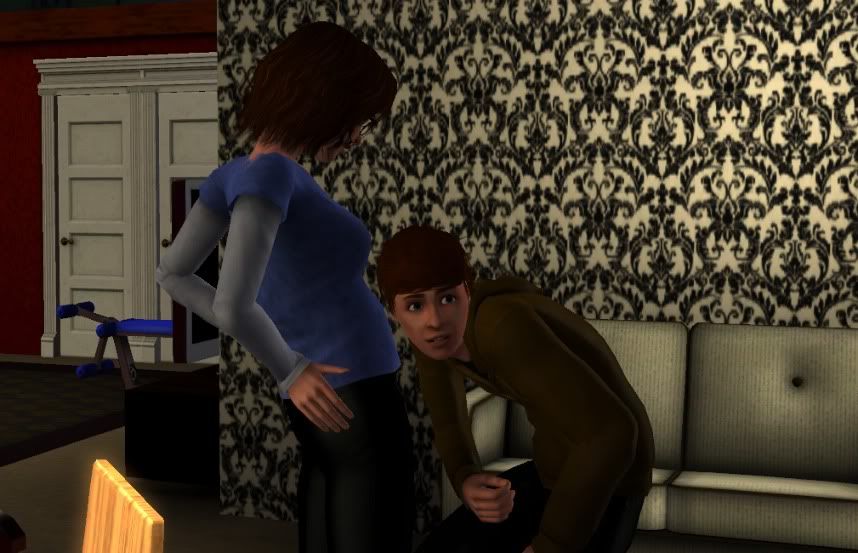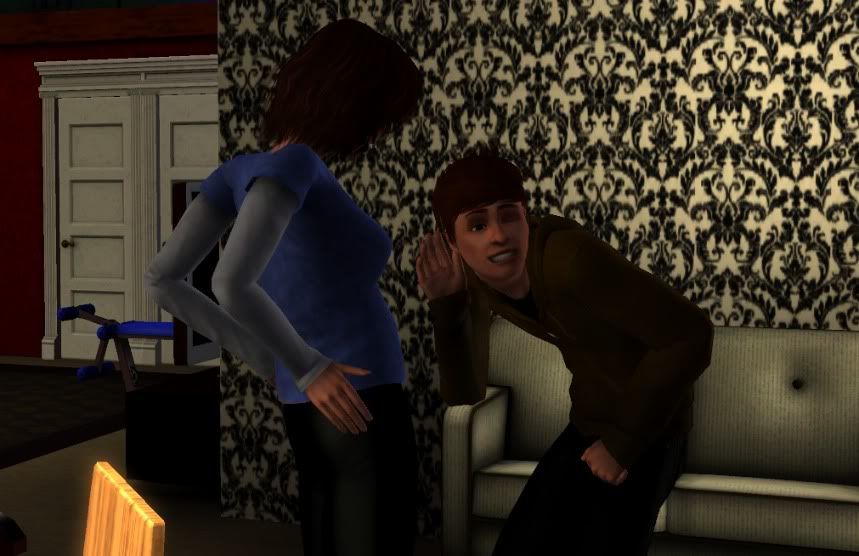 Adorable!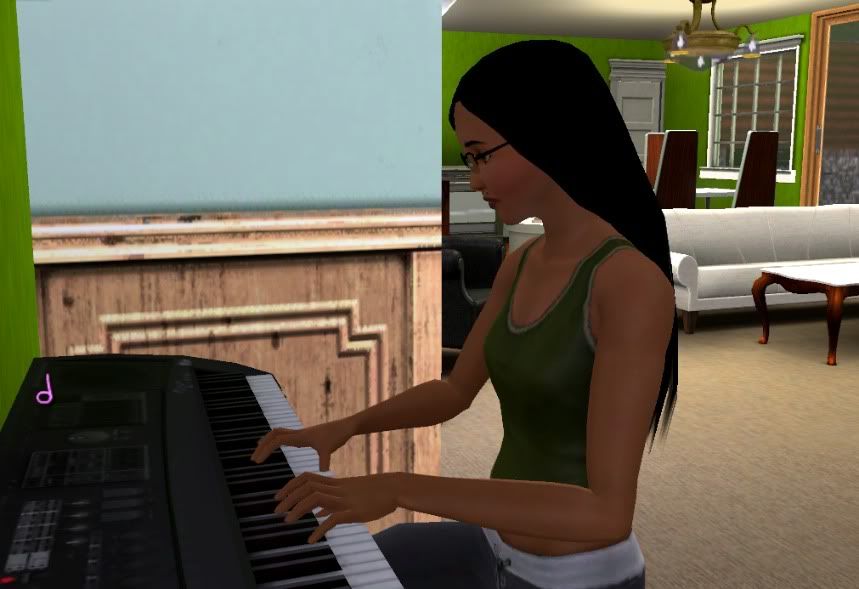 Oh, and Soo Jin learned the piano skill. Seriously, I like keeping her around just for her randomness. She's just fun to play.
Also, Real SJ wants me to make her a specific man for her mate, and I haven't gotten around to it yet, so she's stuck with us!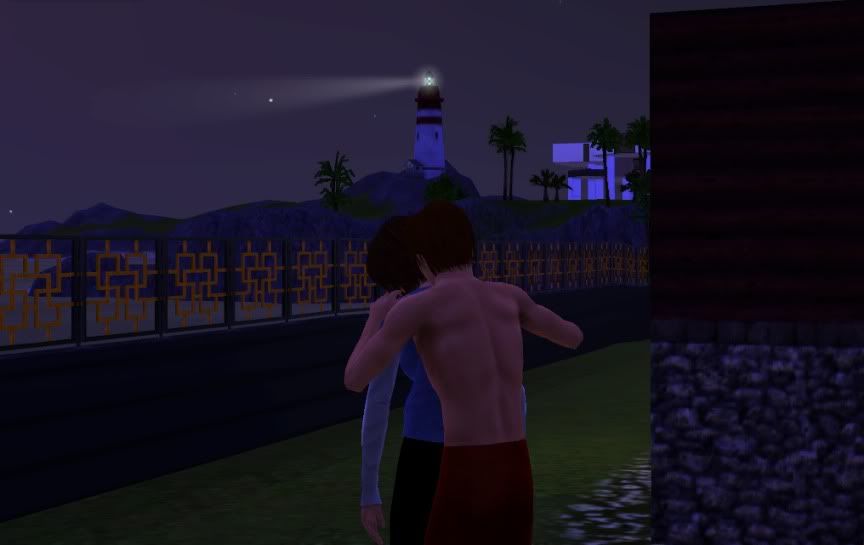 It's no wonder that Ban gets pregnant in your game all the time, Tink -- she has an attentive man!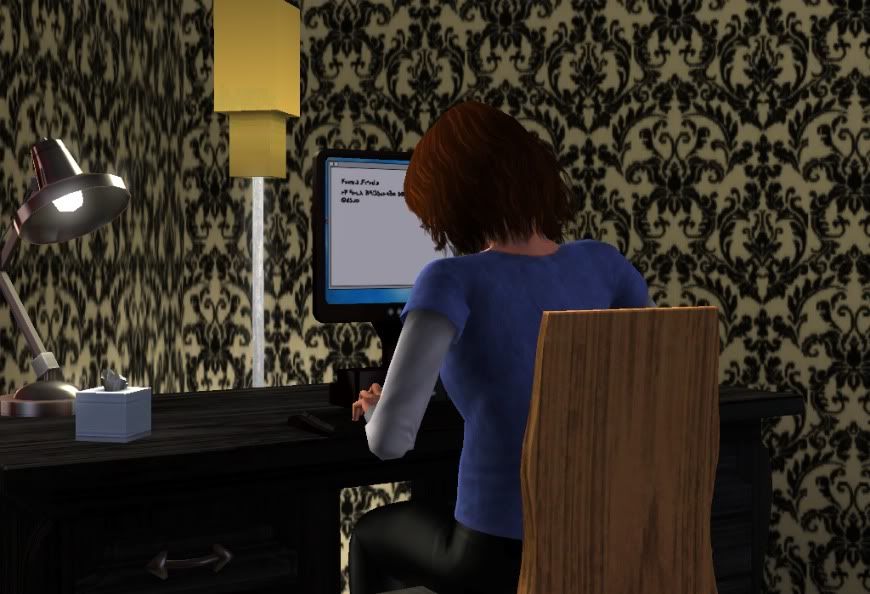 But despite this, I think Bandit felt maybe a little bit stifled by Boyfriend's fixation. As I mentioned, Bandit also filled her time writing a romance novel (Team Hopeless Romantics!), the title of which I cannot disclose at present.
It ended up that it was her obsessive writing that led to some of the pictures I've been looking forward to the most: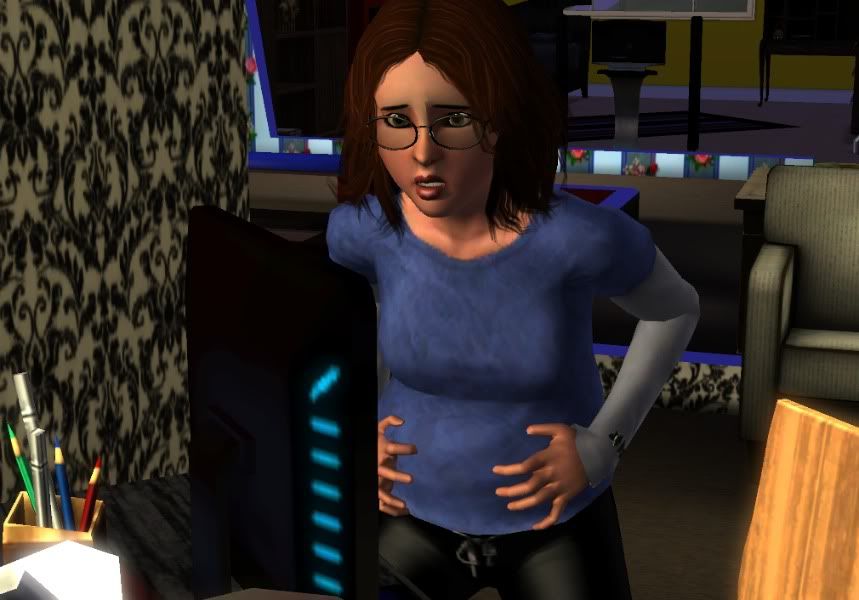 Hooray! Go time, team! Hwaiting!
While Bandit and Boyfriend ran off to the hospital to have the baby in style (or maybe in the taxi, the guy was that friggen' slow), Soo Jin listened to Super Junior. She's good for random breaks of randomness.
Anyways, after a long time with a little stork for a moodlet, it was time for our lovely Excitable Genius to come home.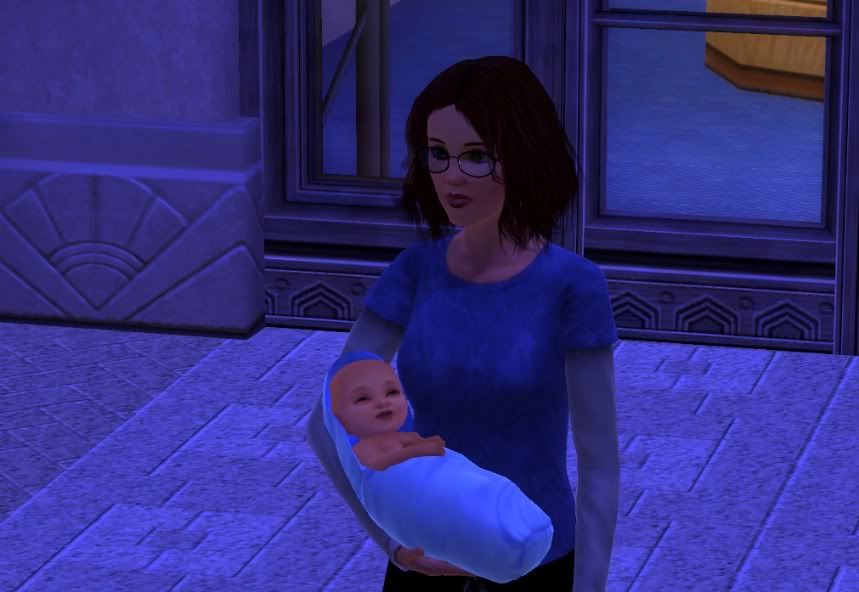 Please meet my darling Victor George Belladonna.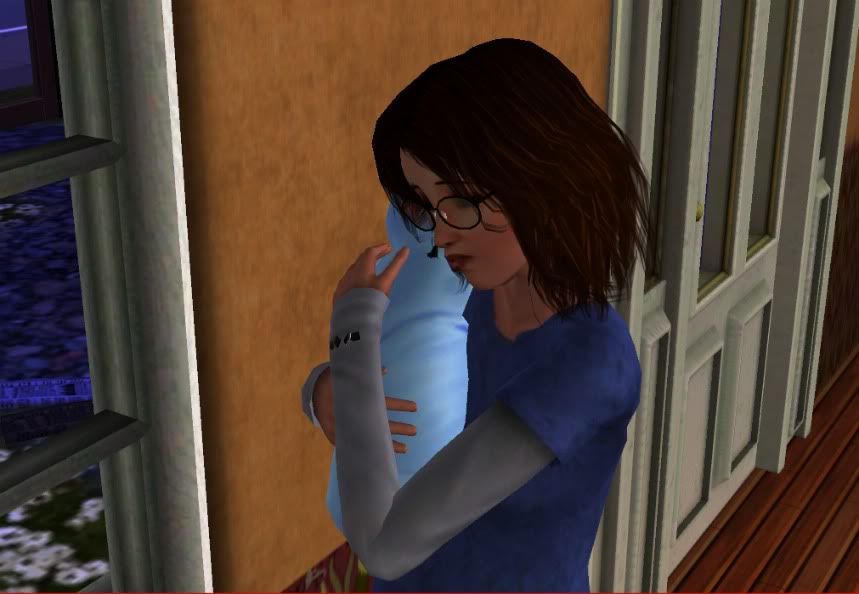 And there was much rejoicing.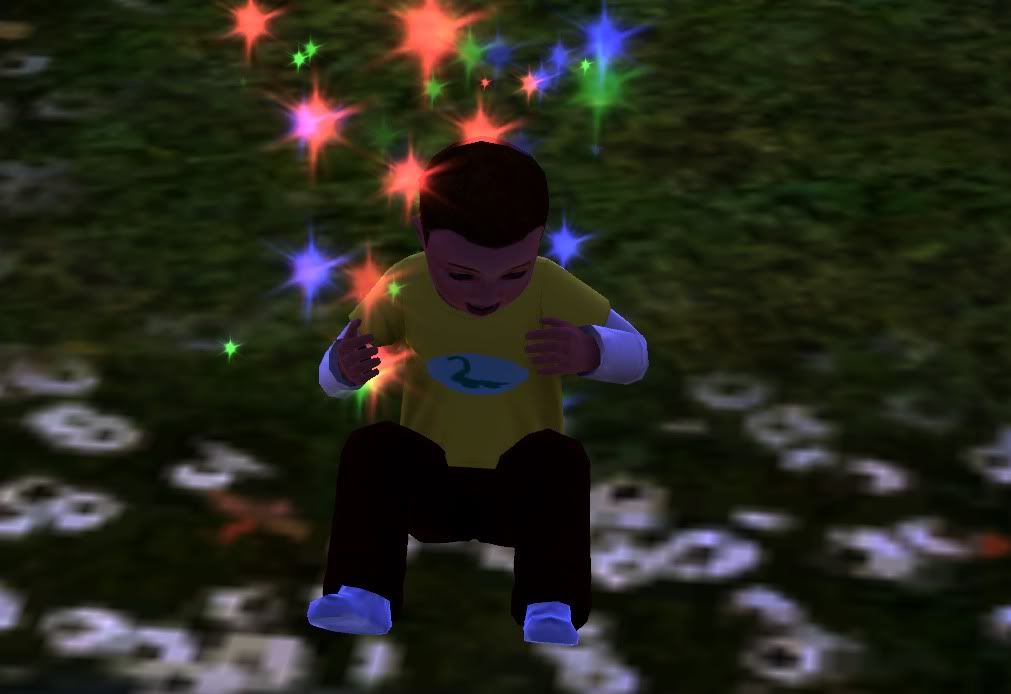 So Real Ban is an impatient little booger, so it soon enough time to age up our little love Victor.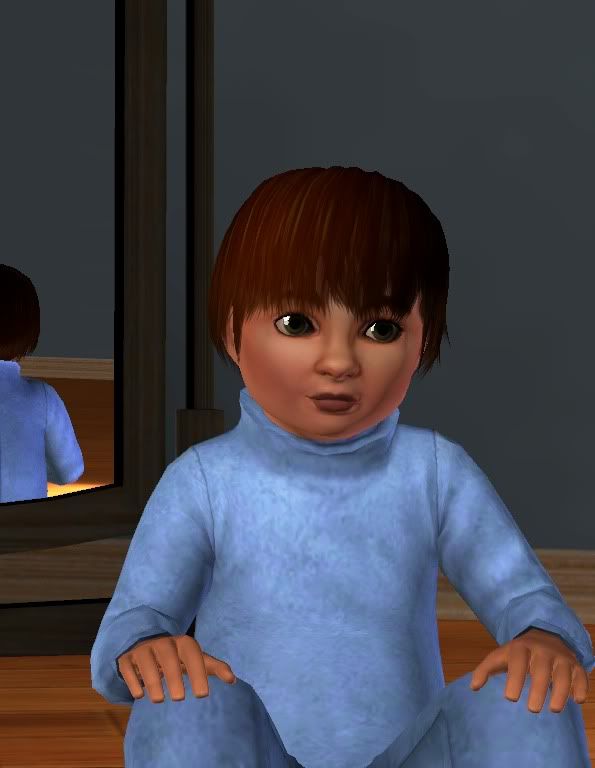 Awwww... He has Boyfriend's hair, Ban's eyes, and most of his facial features seem to be Bandit's, especially the lips. Can't wait to see how this little one turns out!
Thank you for reading, and stop by see how the skillbuilding goes in the Belladonna house.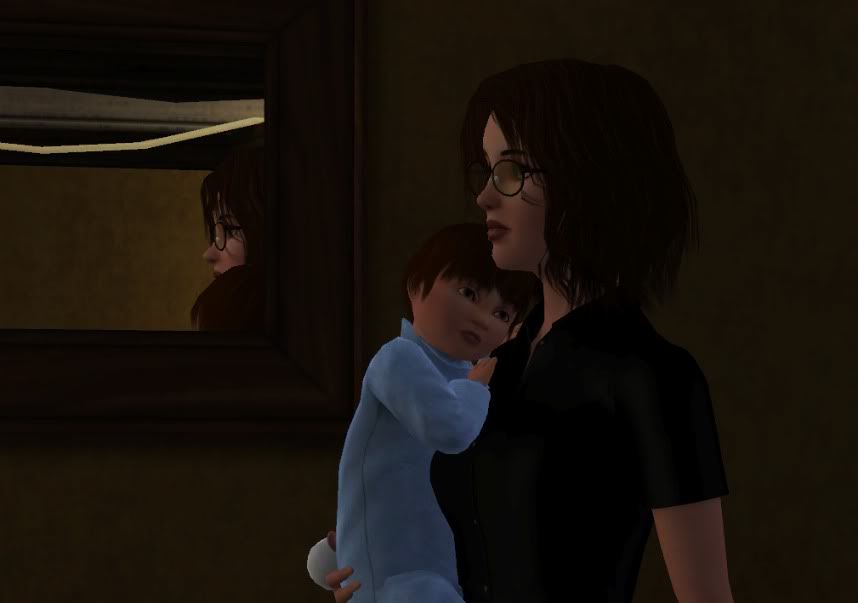 Bye, bye! <3