Hello, and welcome back to the Belladonna Family Legacy!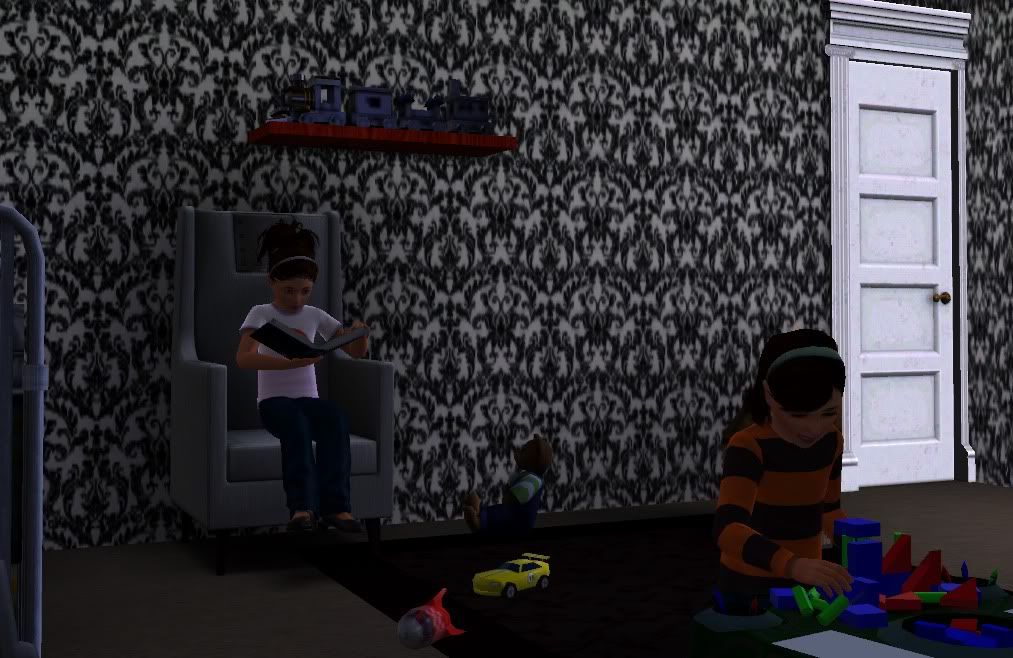 We rejoin our legacy family in the midst of some adorable twin action. Aww!
Bandit, finding herself with some free time, started a new book, which she was excited about to say the least.
And Loki looked cute, I think. At my grandmother's insistence, though, his hair didn't last in its fabulousness.
And with Victor, well...
On his way to school, Victor felt those tingly-ticklies, and we had a side-of-the-road extravaganza: The party of the year!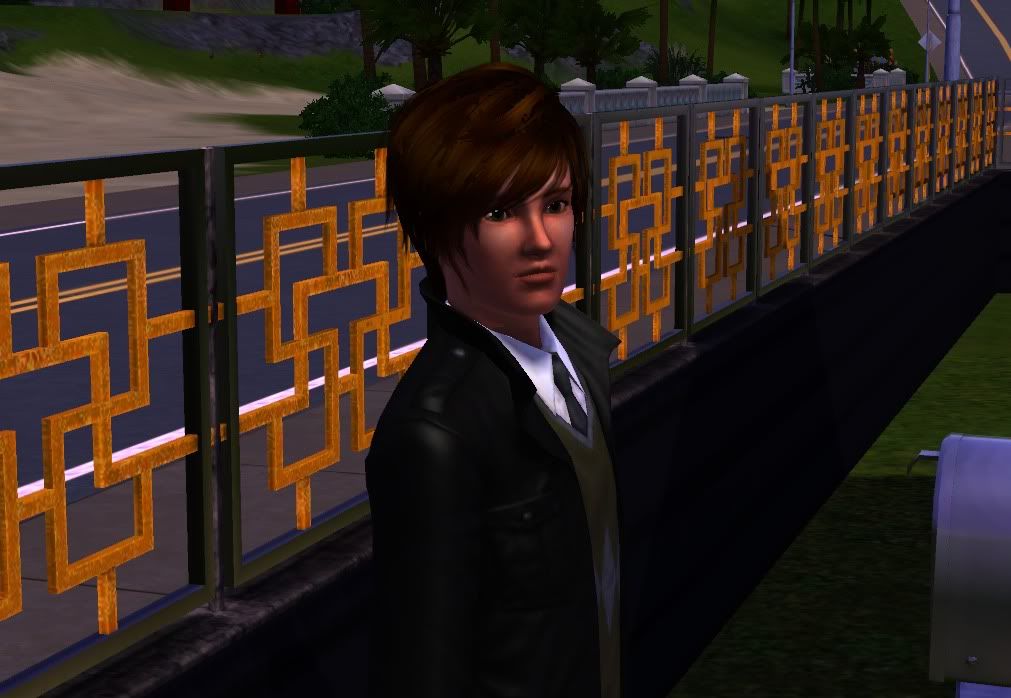 Hoo~ Mommy's little ladykiller!
Additionally, real Bandit is stupid and, in a valiant attempt to save her poor computer's life, uninstalled Ambitions... and Ban's hair >.<
However this one is actually closer to my hair in real life, so there's a pro!
And as mentioned, here is Loki's more modest haircut.
Aish~ You moody teenager, you. Don't make me set Aunt Soo Jin on you!!
And as I went to see how SJ was holding up surrounded by the young people....
ZOMG! What is this, I don't even...
In case you can't tell from the picture, Soo Jin is flirting with Victor o.O
Yes, Soo Jin, as in non-single Soo Jin. My mind is blown.
Immediately after this, I told real Soo Jin of her actions, to which she was upset. Much screaming commenced.
It was awkward for poor Echo to say the least....
And while this drama was going on, where was Boyfriend? 
Why, upstairs sleeping, of course, paying no attention to what went down a floor below him.
But despite my best Watcher efforts to cut off the serious stalking on Soo Jin's part, Victor was simply proving too tantalizing for weak Ms. Bang.
What's funny is that Soo Jin really was creeping -- she had as pinned to the wall as a boy can be in the Sims (;
Bandit didn't approve of this, so of course I had to step in and set Soo Jin straight.
Heechul helped.
Victor, with some time now, spent a bit talking with his little brother for a bit. Or rather, Victor listened to Loki rant about school.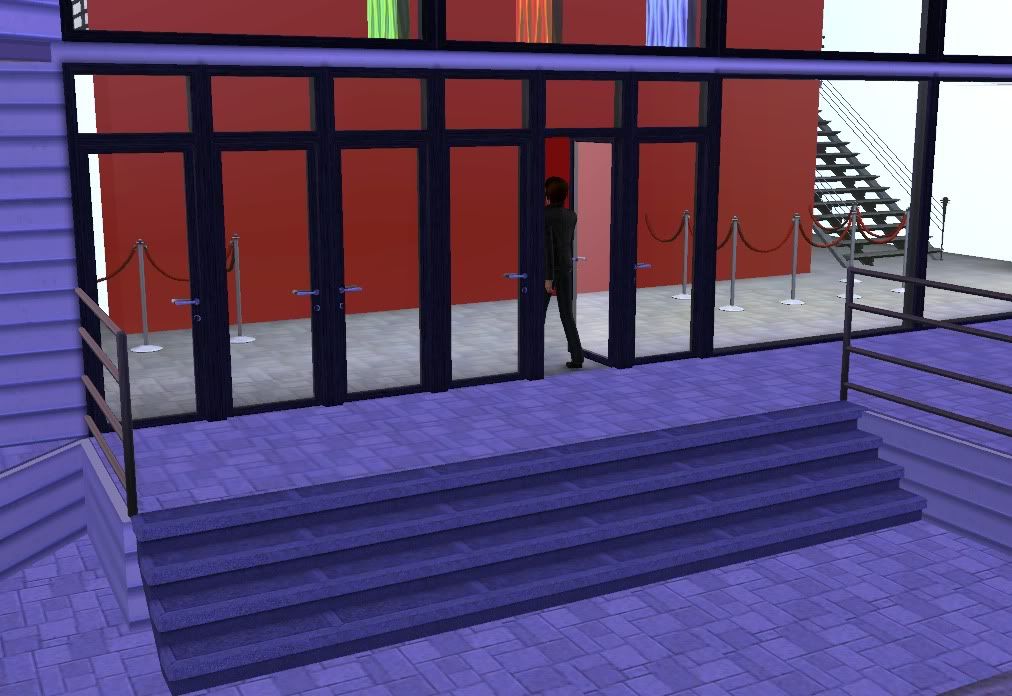 As Victor was the artsy-fartsy type, and he no longer had the constraints of school, he headed off to the museum of art, where he was fortunate enough to meet his new neighbors.
Please meet Gemma Amethyst (thanks so much to Evvie for submitting this stunner!).
This is Tarina Barr... from behind.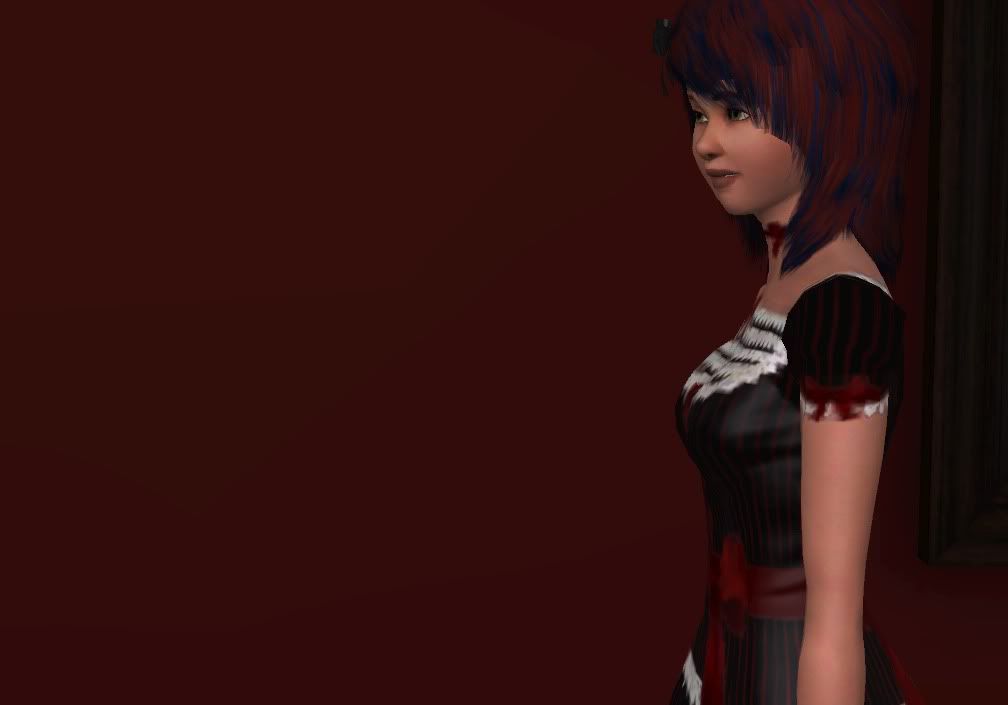 And finally Trina Line, the three women in the "Potentials" household in Sunset Valley.
I know, I know. Not exactly legitimate legacy rules. But who needs 'em, anyways?
So, for the sake of fairness and because I adore Victor, I decided to allow Victor to choose his woman. Well, not really, but I introduced him to a few womenfolks, and watched their reactions. From there, I decided. The following are a few pictures from their respective conversations: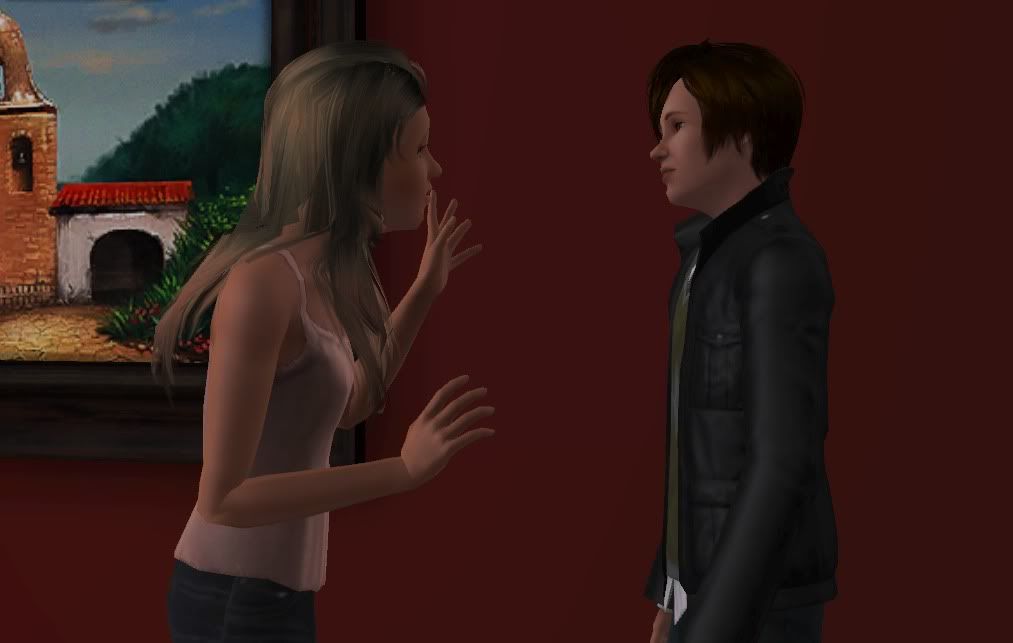 First up for Victor was the lovely Gemma. It seemed to be alright at first, but the conversation quickly fizzled out.
Then, it was Trina's turn.
This time was much better.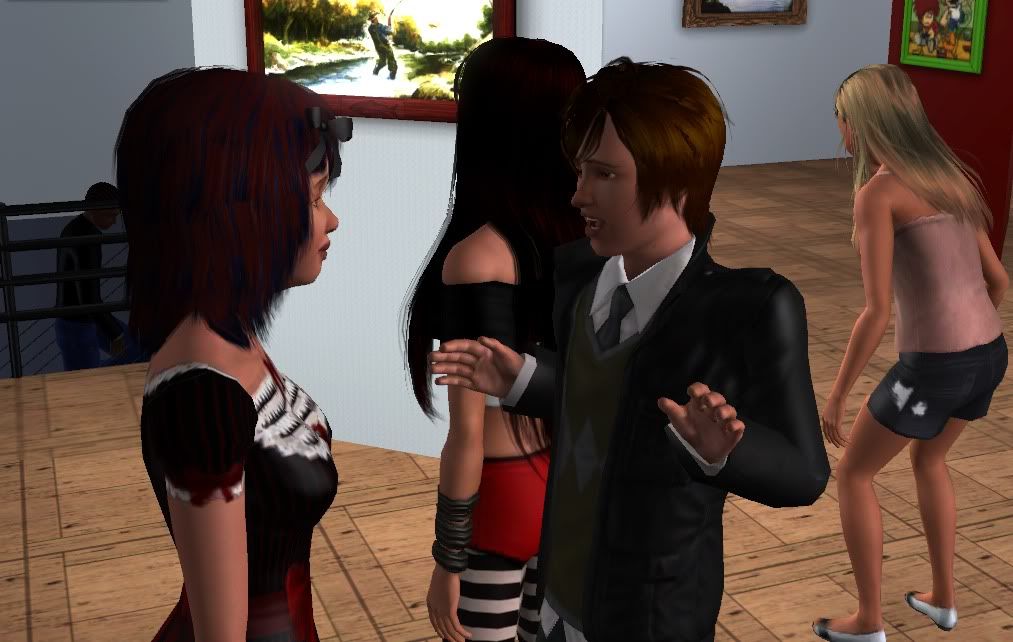 Are those... are they... smiles?
AND they're both family-oriented! I'm sure you can guess my vote.
But then again, can't be too sure: We have one more lady left to meet.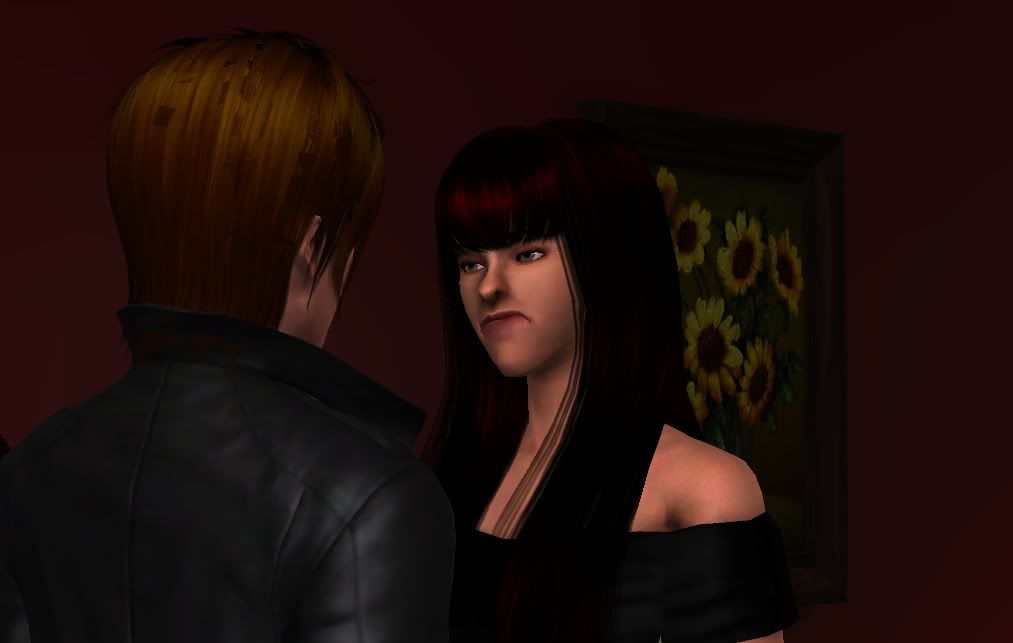 The lovely (and oh-so classy) Tarina.
And even throughout their conversation, Trina stood there like a good creeper.
But who can blame her? Victor even looked at her.
So what do you think, Constant Readers?
Will it be the lovely Gemma?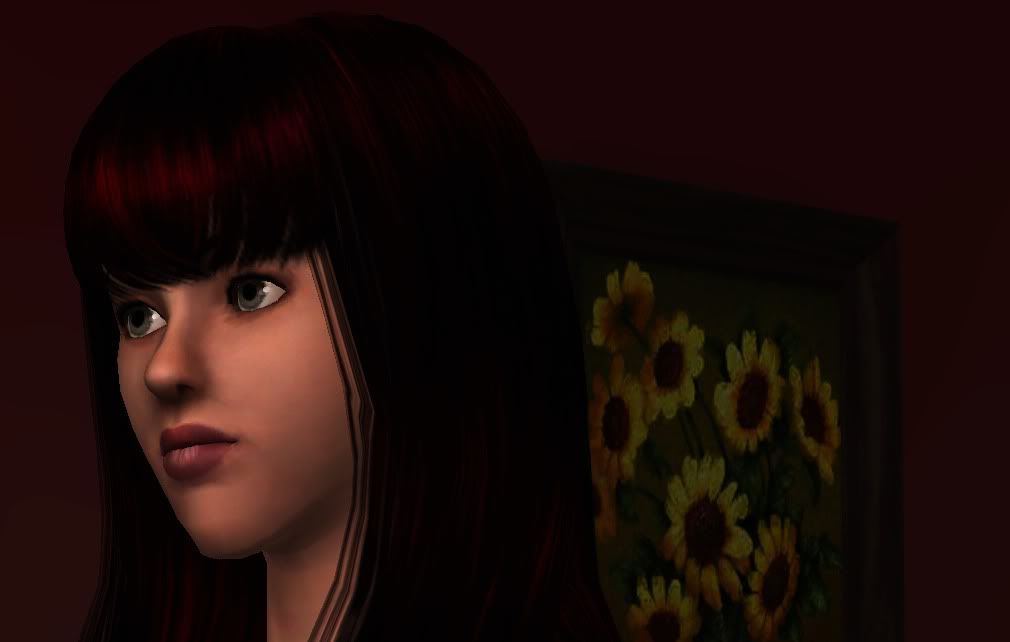 Or Tarina?
Or Trina?
Please leave your vote in the comments (:
So sorry for the abbreviated chapter, but hey! A short one is better than no chapter, eh?
Anyways, have a wonderful week -- talk to you all soon!