Hello, and welcome back to the Belladonna Legacy! Now, where was it that we last left off...?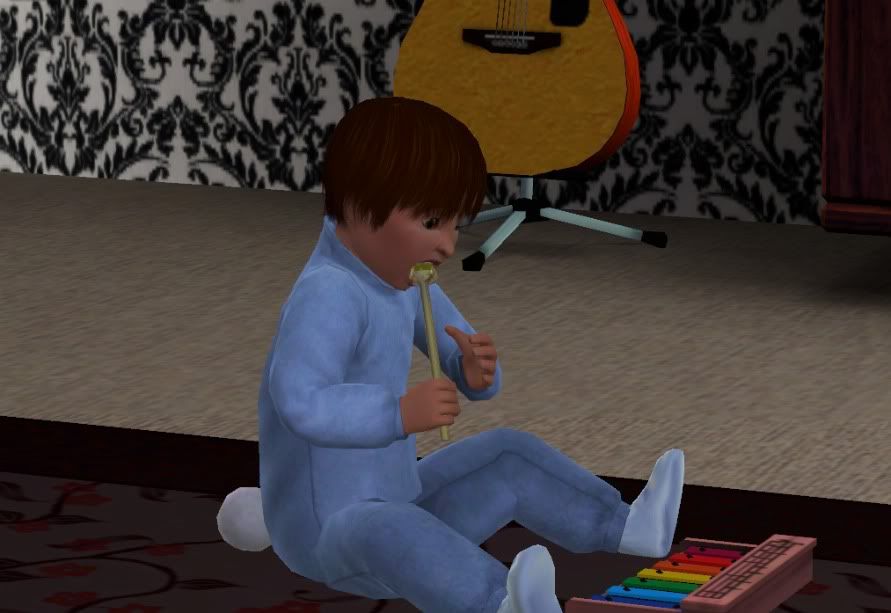 Ah! This lovely face! Hello, sweet Victor!
The minute his parents caught sight of this kid, they both had this wish pop right up. Sadly for them, I turned it down. I just think it's too cool the way the jobs worked out with their real personalities -- couldn't give that up!
Also, Bandit has never gone to work (not once!), so I figured she should monitor that playground a little while longer.
Bandit spent a lot of her time with the baby -- she was either side of obsessed with the poor little love. I don't think he minded all that much.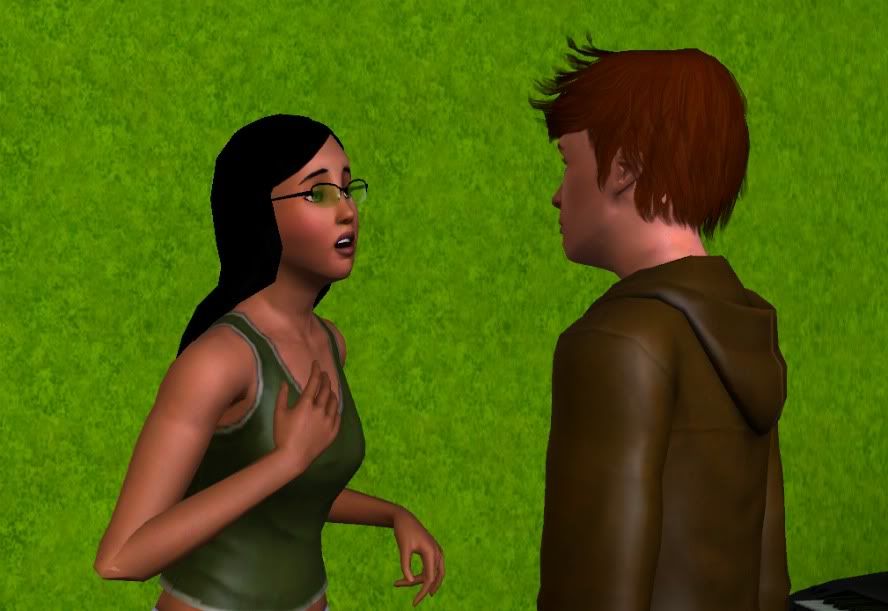 Since Ban was still hoarding Victor, Boyfriend and Soo Jin made conversation a go. I don't speak Simlish, so instead I asked their real-life people to talk.
It looked kind of painful, so that's how I'm going to figure that's how it went in the Sims: It was quite a short conversation, but HEY! They tried.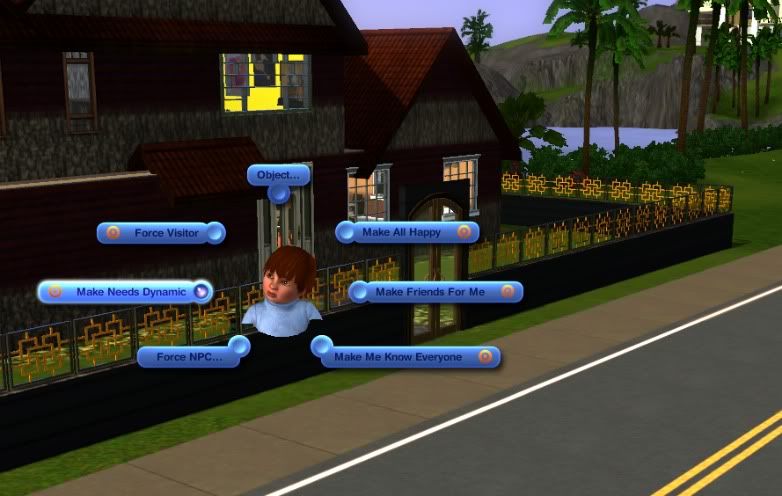 Since everyone seemed to be good, it was time to put Super Cool and Awesome Master Plan into action.
It was Victor, I swear!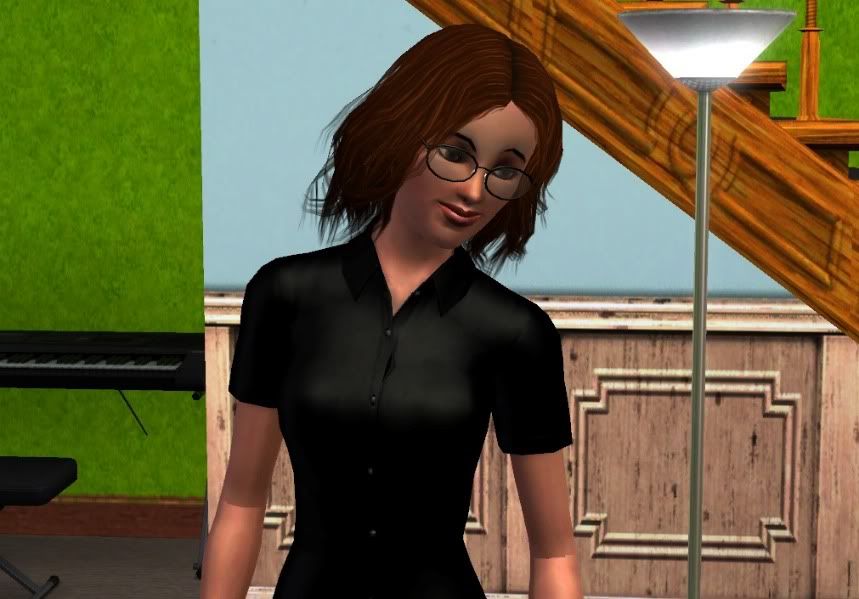 The members of the household dealt with their newfound needs to eat, sleep, and poop (teehee... potty humor....) in different ways.
Bandit tried to make sexeh faces.
I say "sexeh" because it was just "eh", but again: E for Effort!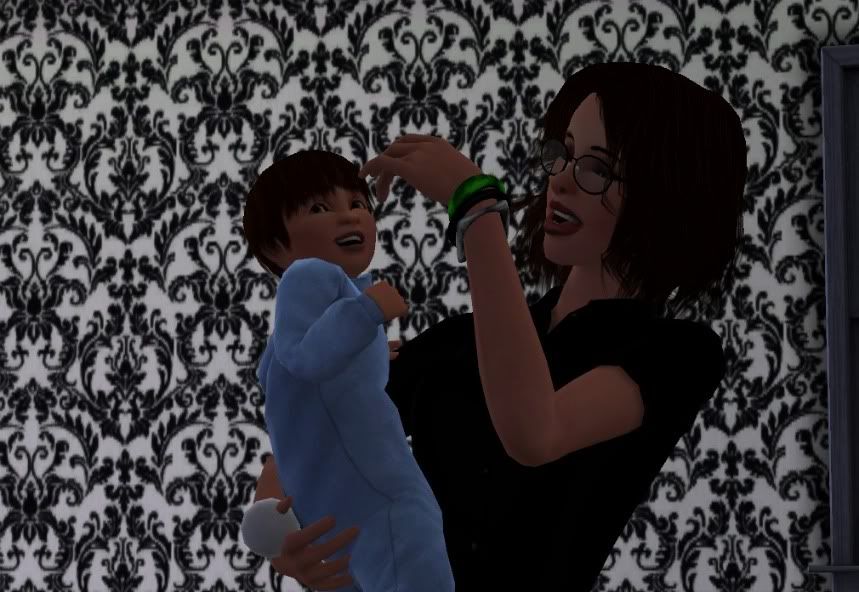 She also bugged the baby like no other.
He didn't seem to mind.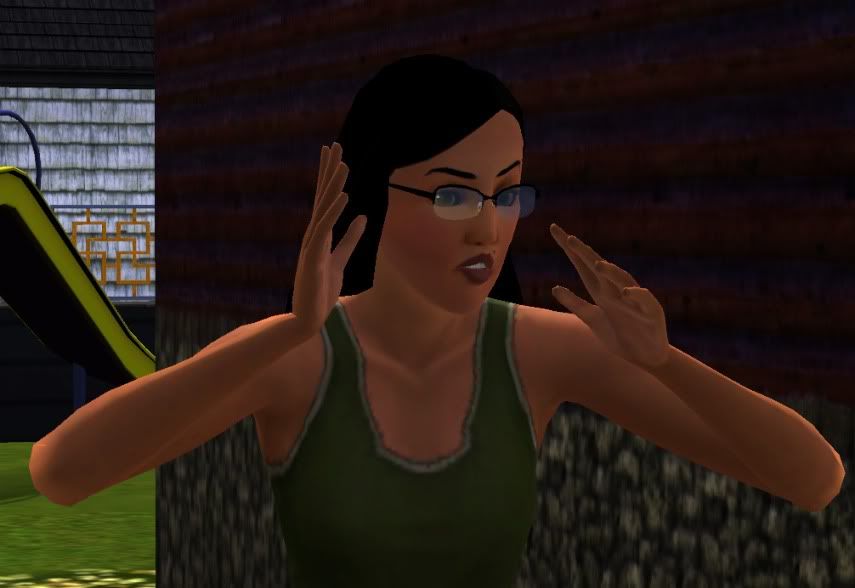 Soo Jin, on the other, had a passionate calling to shoo the paper boy constantly.
My favorite thing about this picture is the playset in the background -- I know somewhere deep down you have a soft spot, SJ, I can feel it.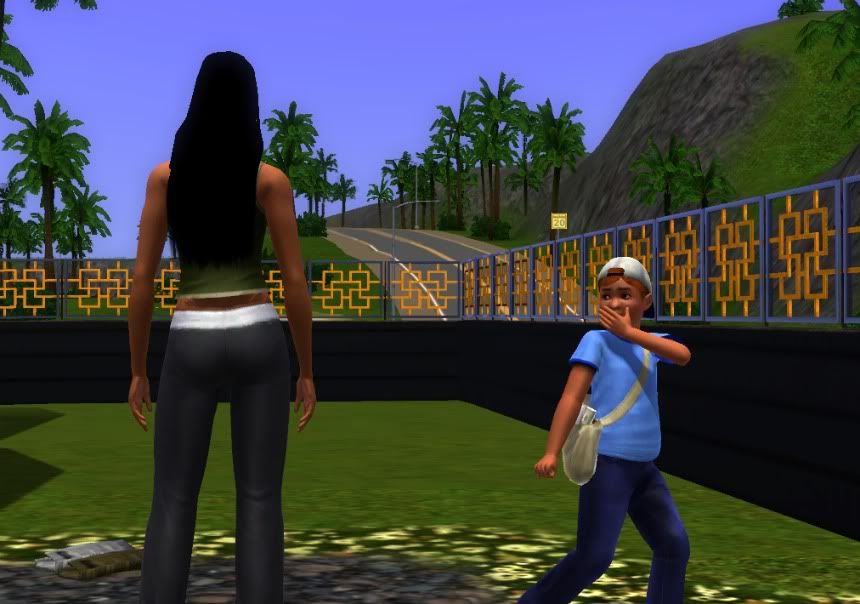 Or not. She lost a fan, but it's okay: Those looked like bad genes anyways.
Soo Jin, for some reason or another, was completely obsessed with the culinary career path she had chosen, and studied like crazy.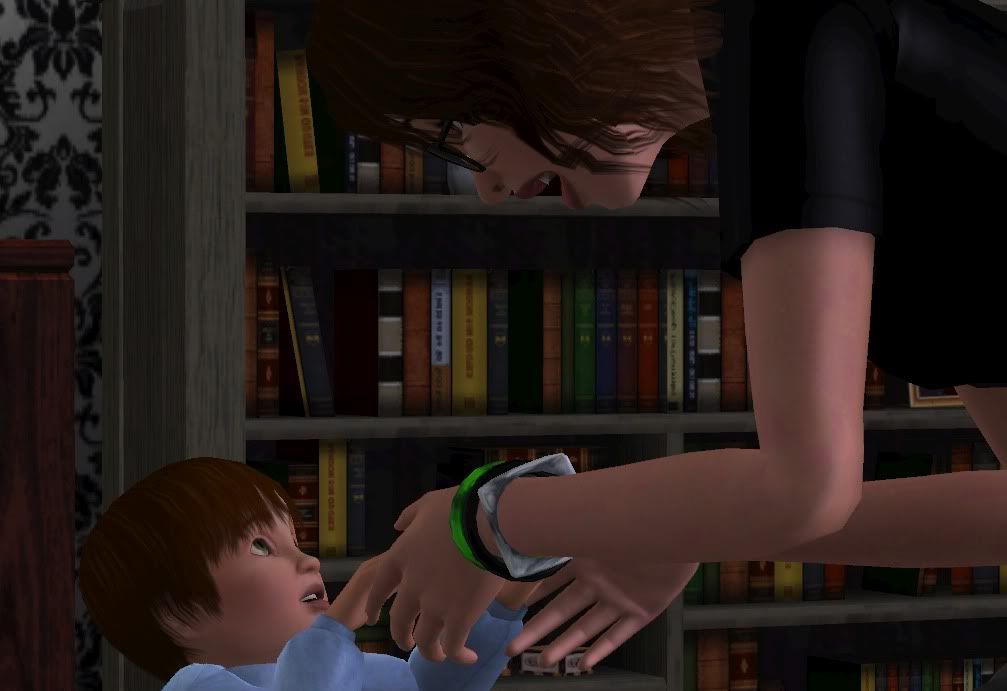 And Victor learned to walk!
I think this is my favorite picture so far -- I kind of hope it's this one that defines my entire legacy.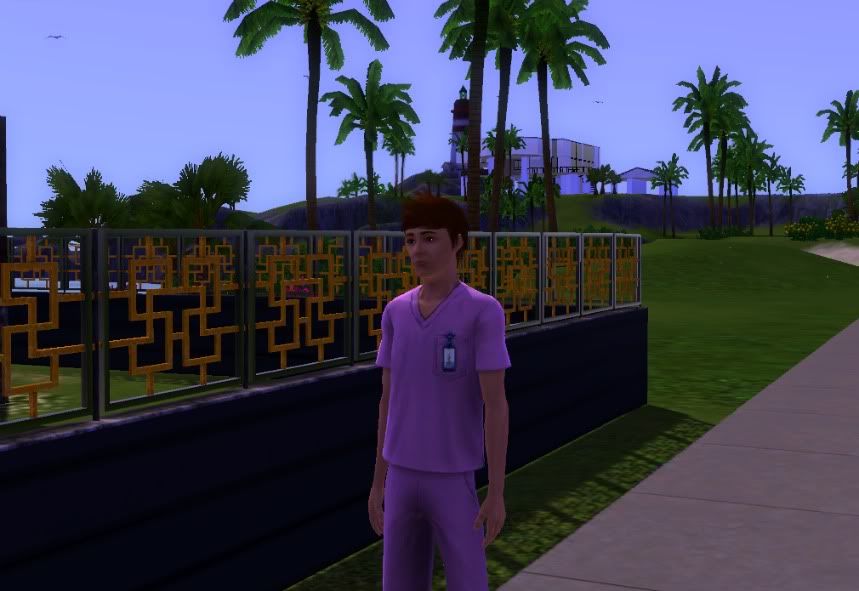 But hey! Don't let me mislead you! Boyfriend was hard at his pursuits, and it had earned him a promotion: Bed Pan Cleaner!
And not only was he the best in the land at cleaning bedpans, he was also a doting father.
Every extra minute he had at home he spent primarily with Victor. It was Boyfriend that taught him to talk, and encouraged his musical gifts.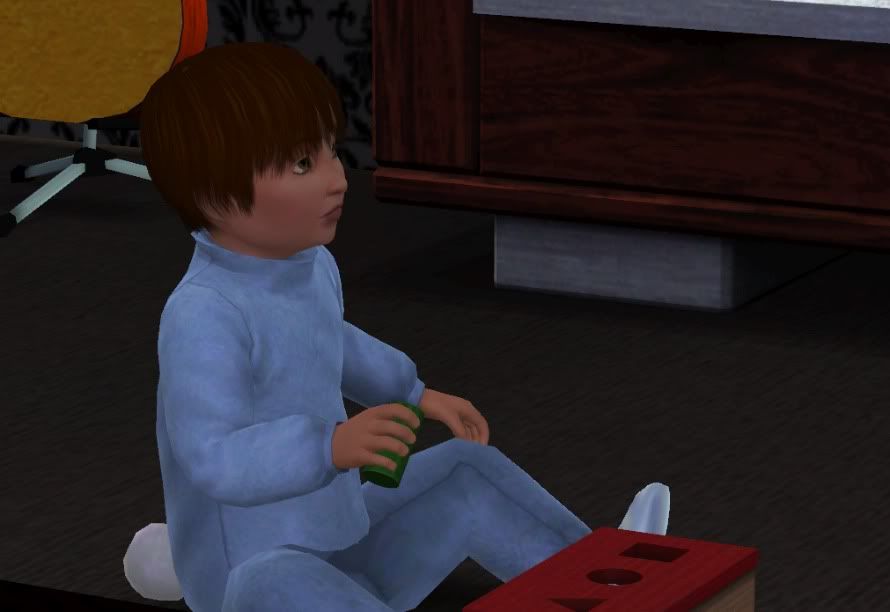 Allow me to introduce you to Victor Belladonna's Fourth Task (like in Harry Potter, only toddler-ified!) -- he had already mastered walking, talking, and now it was time for blocking.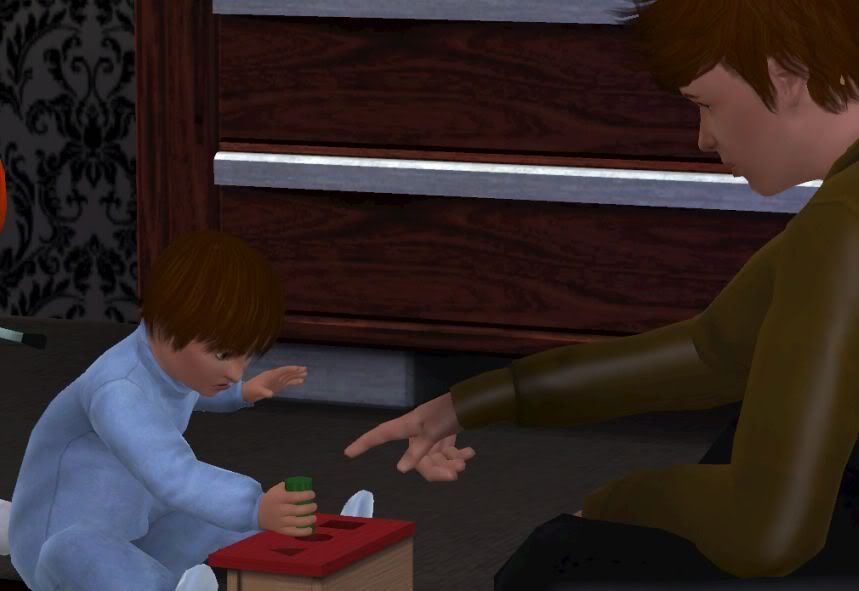 Oh god... His Bandit is showing...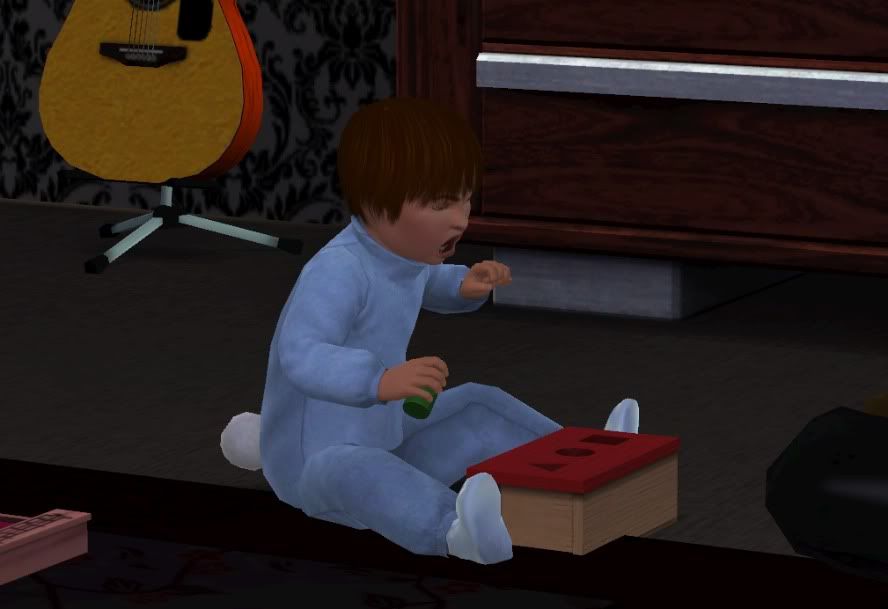 OH SHI-- Yanno, sometimes I'm really quite glad that my computer doesn't have sound...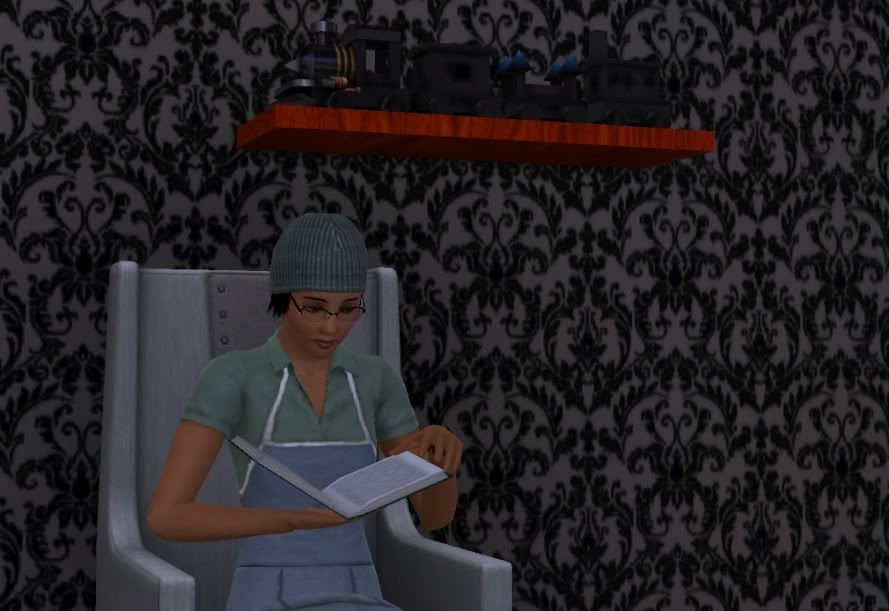 Oh, and Soo Jin watched this. Why would someone that dislikes children choose to hang out in the nursery to read, when I've provided plenty of other places to read?
This isn't even the closest seat to the bookshelf! Sheesh!
Ah, but despite all of the hours spent on Victor, Bandit and Boyfriend continued to be the cutest couple in the land.
And I made an executive decision that, in light of them handling everything relatively well, they deserved a treat.
Hey, don't hate because I know what my Simmies actually want...
They've really got their life together, I think.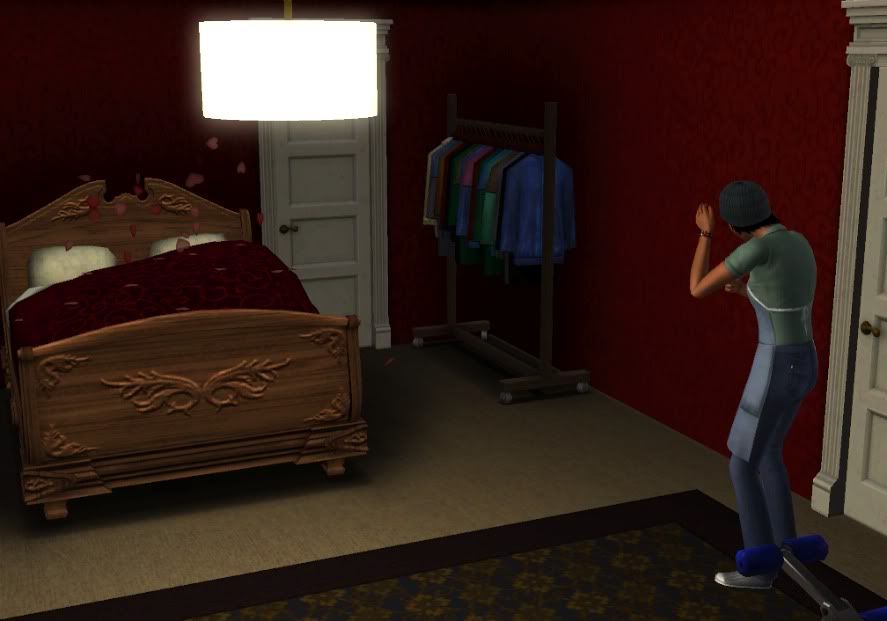 But I don't think Soo Jin does anymore. In fact, I don't think she'll ever have the emotional capacity to love again.
No big deal.
But wait a minute -- what's with this smile? That better just be because you realized it's been like four hours and you're still in your work clothes...
Not sure what's funny about that, but Soo Jin is an odd egg.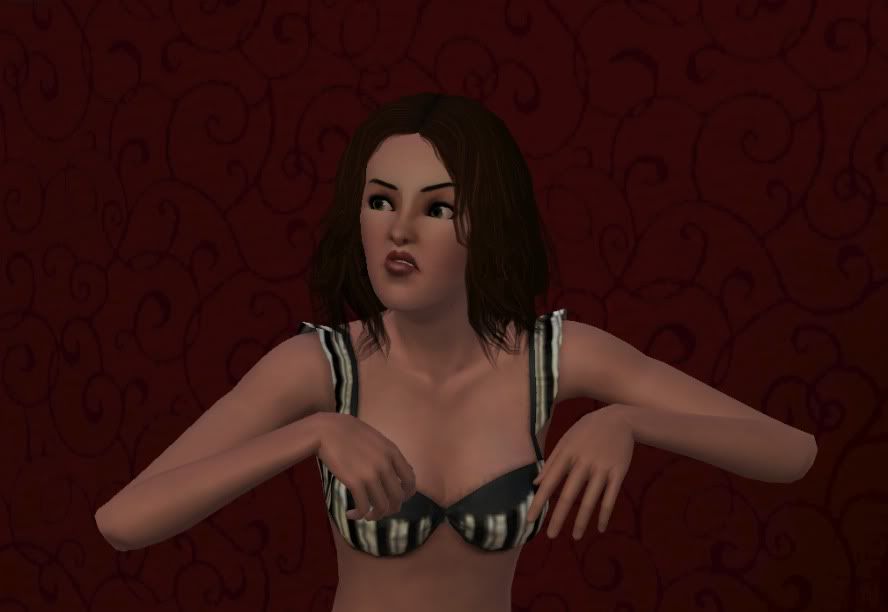 Well, Bandit can't always be a goddess of goodness and light!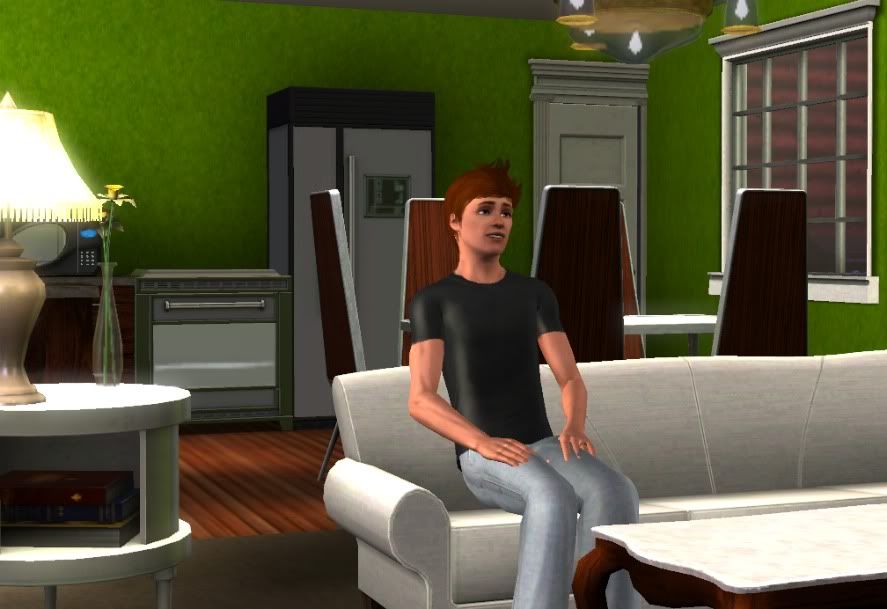 And then the couple headed off to opposite sides of the house to be embarrassed for a while.
But it was, of course, little Victor that brought everything back to rights.
He got on perfectly with his daddy.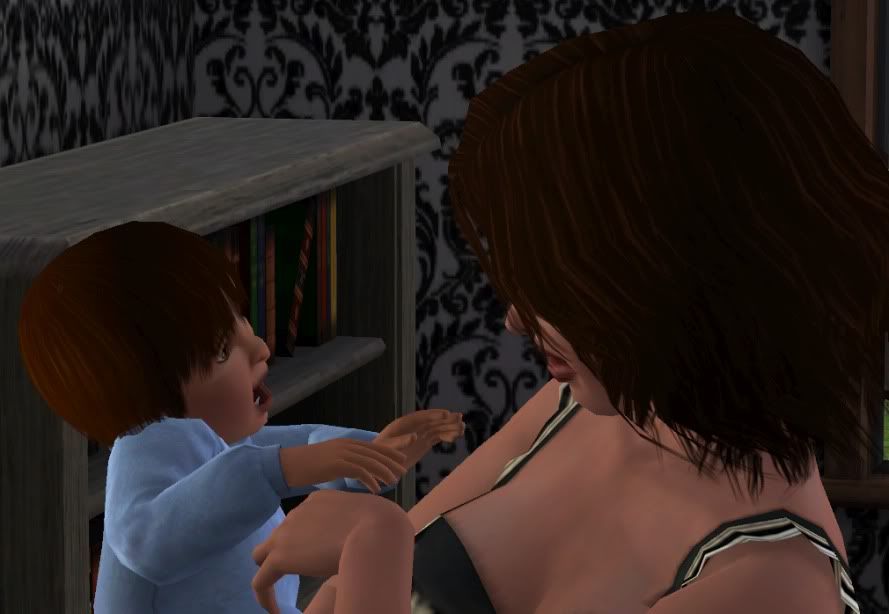 He had his mother wrapped around his little finger.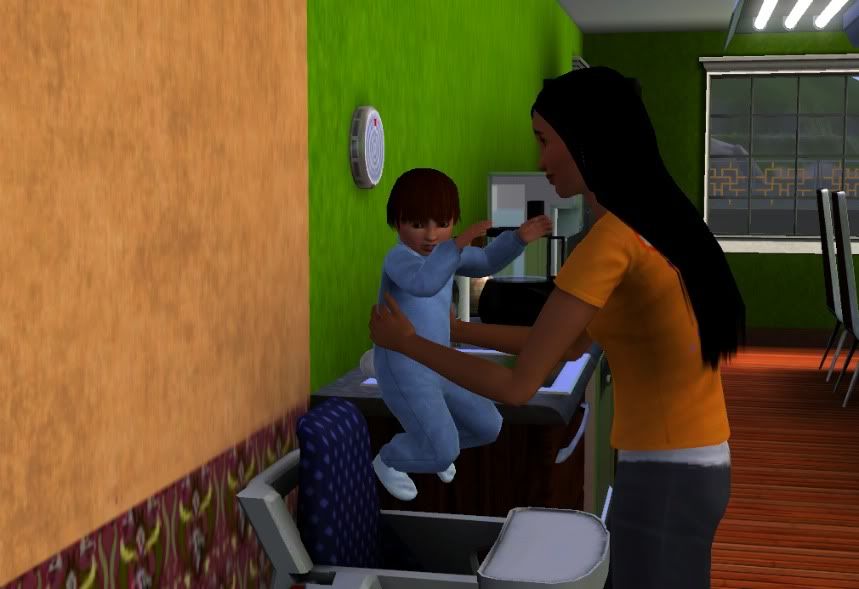 And even Dislikes Children Soo Jin had fallen for his charms.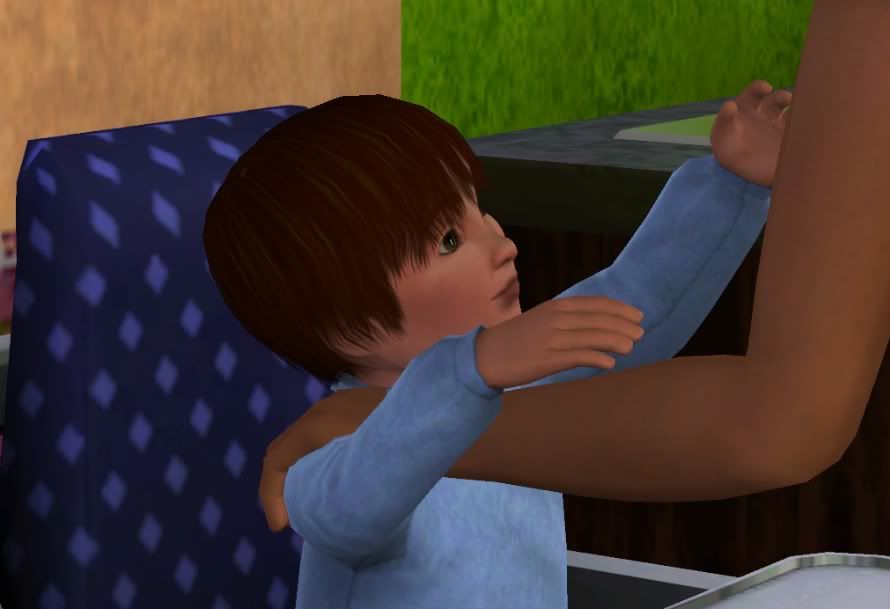 I mean, I know I'm family oriented, but DAMN! No wonder poor Soo Jin was compromising her loathing for acceptance....
To be honest, I was going to propose we take bets on how long she'll be able to tolerate this household.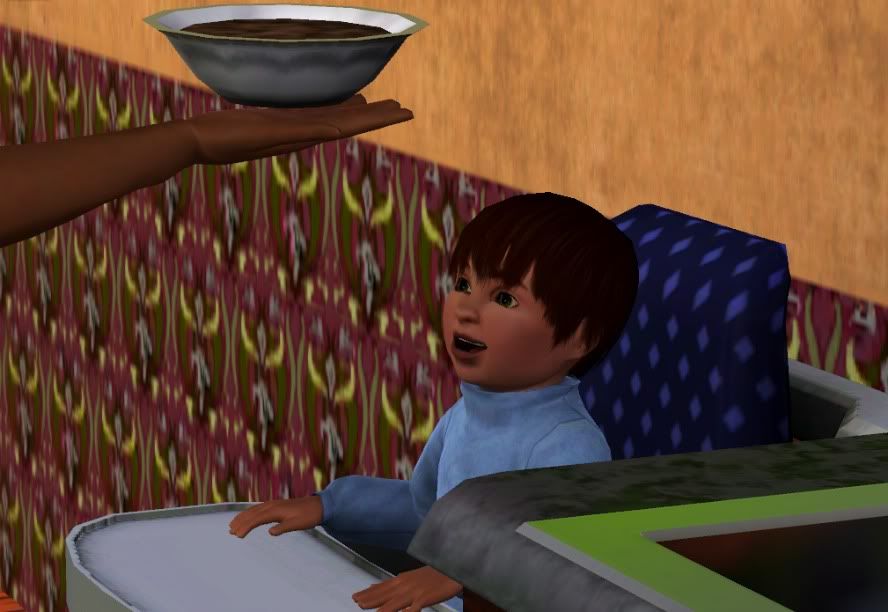 Turns out she's doing just fine -- she even fed him without being asked. He eats food -- what more does our culinary professional need in a child? Exactly.
As it was both Bandit and Boyfriend's day off, they decided to take a little field trip -- apparently you aren't supposed to make out in the judges' chambers of city hall...
I love their differing reactions. Bandit just walks back in, and Boyfriend looks like "OH SHIT!"
...Well, Boyfriend is the one with the vampire cop staring at him.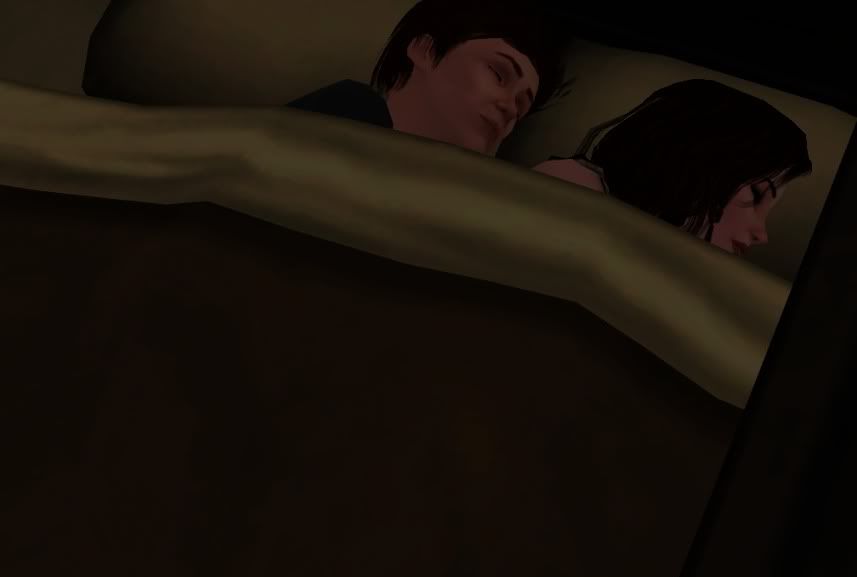 Despite everything that had happened in the few short days in the legacy, the couple remained in love and adorable, but it's not like I'm biased at all.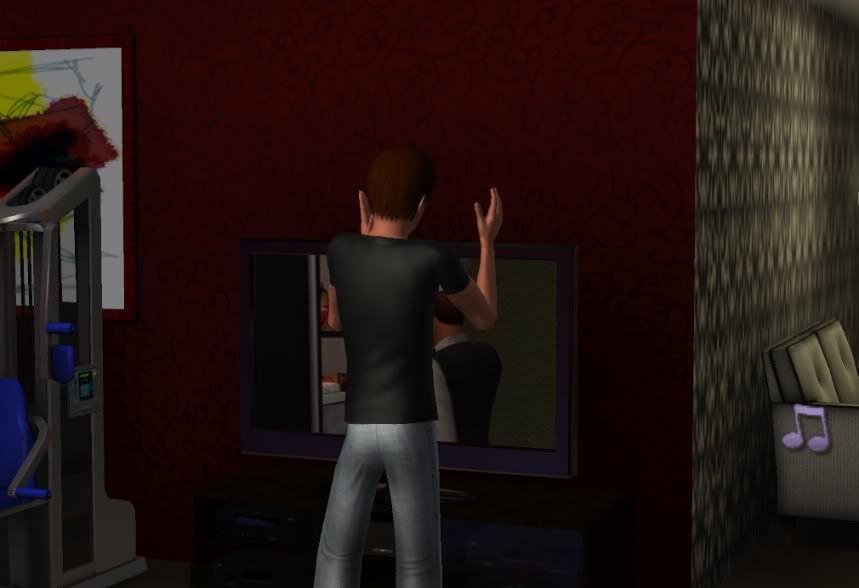 But for some random reason, Boyfriend felt the need to go all the way upstairs and stand directly in front of Soo Jin's view of the television.
Payback!
And he missed the latest excitement...
Congratulations, Ban!! It appears you're never going to work!
Love,
B